Reward your Subscribers for Referrals
You have full control over tiers and rewards. Let your users earn rewards in exchange for referrals to your email list or newsletter.
We are always working on supporting new providers.
Get Notified once any of our upcoming integrations launch!
Promote your Subscriber's
Referral Status in Every Email
Easily copy and insert your subscribers personal referral link and their current referral status in the emails you send out.

This makes it easy for your subscribers to refer friends and to see their current status at a glance.
Define Reward Tiers for Referrals
Setup rewards for subscribers that refer friends to your email list.
Send out discounts, cash payouts, swag, stickers, 1:1 sessions with you, or any other custom rewards.
Adding new rewards is as easy as clicking a button. Incentivize your subscribers by letting them earn gifts for their successful referrals.

Your Referral System on Auto Pilot.
We differentiate between physical and digital rewards. Digital rewards are fully automated and sent out to your referrers via email. For physical rewards we are helping your gathering your subscribers shipping address so you can send out the reward via traditional mail.
Get Creative
Create rewards such as discounts for your product(s), stickers, t-shirts, coupons, digital programs, gift cards, 1:1s, etc. Be creative and define rewards that match your brand and product!

Reward Features include:
Name your Reward Milestone

Define a Threshold (Amount of Referrals)

Pick an Image or provide a custom SVG

Claim instructions for digital rewards are sent out automatically

Shipping address of subscriber is gathered automatically for physical rewards (such as stickers)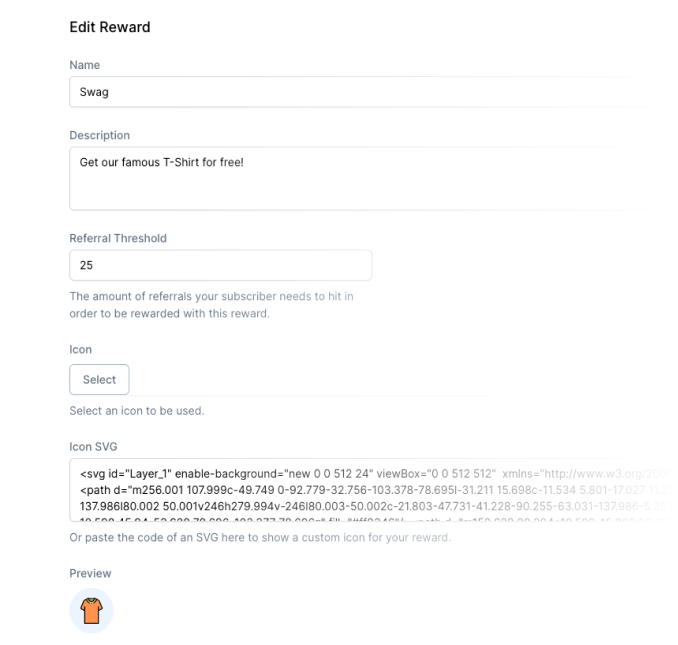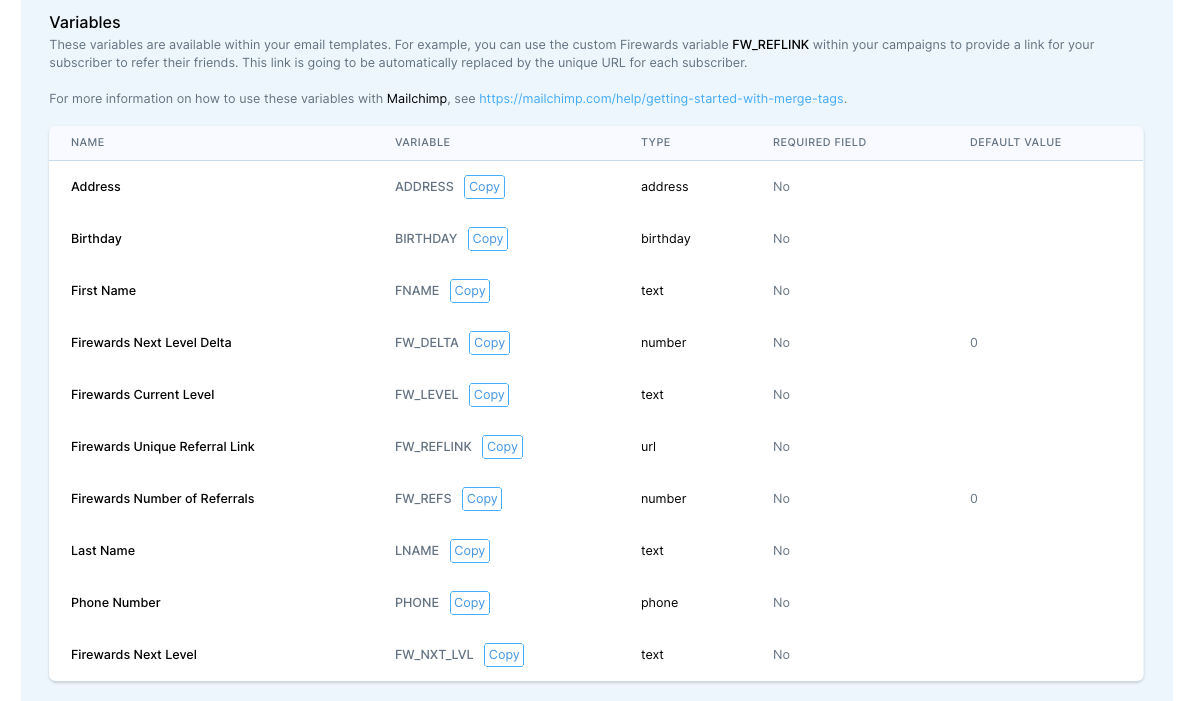 We Synchronize with your
Email Service Provider
After setting up your reward program, Firewards is going to synchronize placeholders with your E-Mail/Newsletter Provider.
This gives you the flexibility to insert the reward program into your email template.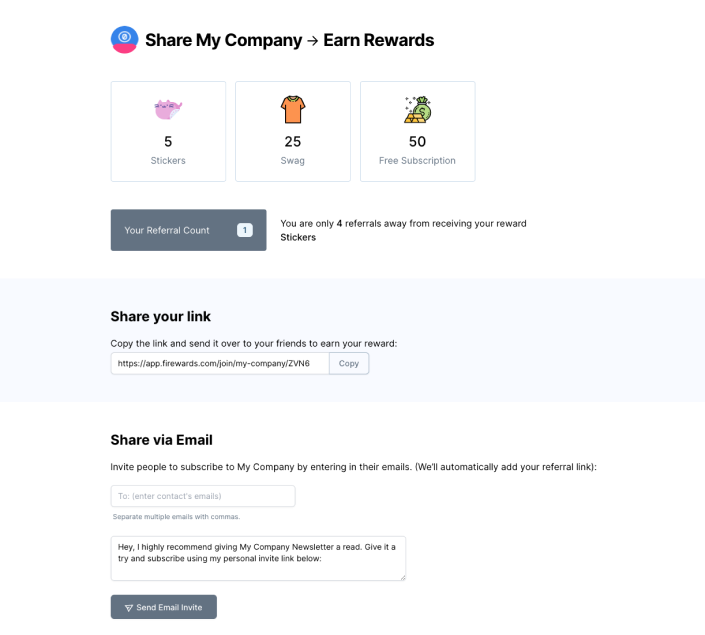 Unique Referral Status Pages
Subscribers receive a unique link to their referral page with every newsletter.
Clicking this link will take them to their status page. The link includes a unique token, so there is no need for your subscribers to create a login.

Here they can now check their current reward level, how many referrals they need to make to receive their next reward as well as some options to invite friends through different channels such as Linkedin, Facebook, Twitter or Email.
The referral status page is fully customizable and can be styled to fit your branding and messaging.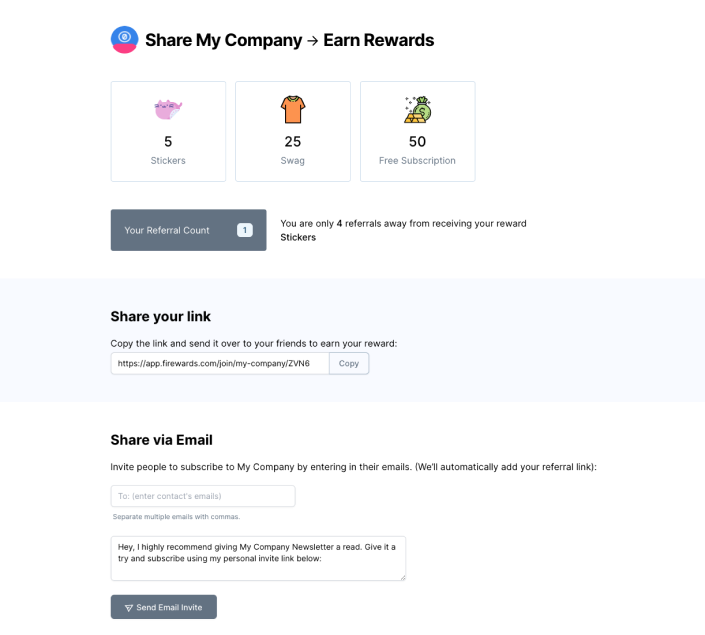 Setup Your Page Now
Join Newsletter Page
Referred friends will be directed to a form that will sign them up to your newsletter.
This form will automatically track down the referrer and provide you with all necessary information.
Choose if you want to get notified for each referral or get daily, weekly or monthly reports on your subscribers referrals.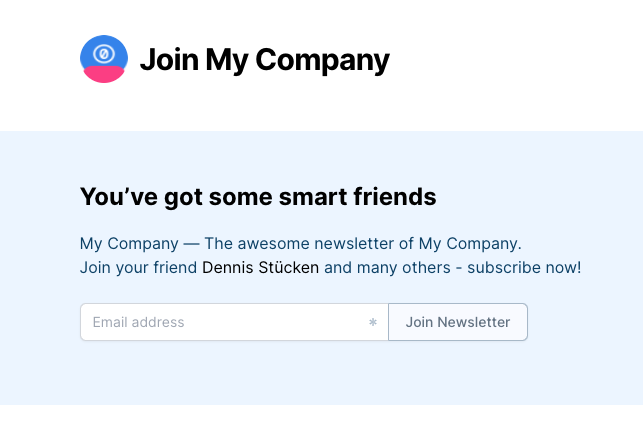 Leaderboard
Gamify your newsletter growth with our leaderboard!
This leaderboard shows up on the unique referral page for your subscribers.
Ranking up the ladder is a lot of fun!
See it in action!
This is how your referral campaign could look like for your subscribers.
Set Up Your Campaign